Trending...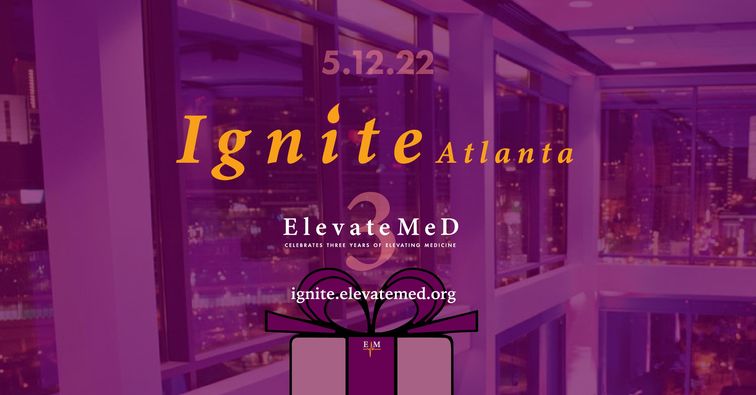 ATLANTA
-
GeorgiaChron
-- In celebration of the organization's third anniversary, ElevateMeD is proud to announce its upcoming fundraising event,
Ignite Atlanta
. The first event of its multi-city fundraising efforts is set to take place on
Thursday, May 12, 2022
at Downtown Atlanta venue
Ventanas
(
275 Baker St NW Atlanta, GA 30310
)
beginning at 6:30pm
. Full event details and registration can be found at
ignite.elevatemed.org
.
"
We came to Atlanta first for these special, more intimate ignite events, the place where dreams are born and fostered, as we celebrate the ElevateMeD Scholars in Atlanta and celebrate our efforts over the last three years,"
shares
Dr. Alyx Porter Umphrey
, Founder and Executive Director of ElevateMeD and a graduate of Spelman College.
After paying off their combined $500,000 in medical school debts, Dr. Alyx Porter Umphrey and husband Dr. Gregory Umphrey, a graduate of Howard University College of Medicine, founded the organization to give back to the next generation of underrepresented physicians. The organization is led by a Board of Directors from across the country including Founding Board Members Dr. Andrew Sanderson, Gyasi C. Chisley, and Patrick Brooks who are graduates of Morehouse College as well as Dr. Shannon Smith who is a graduate of Spelman College.
More on Georgia Chron
"
As one of the inaugural ElevateMeD Scholars and the first ElevateMeD Scholar from an Atlanta medical school, I am so thrilled to be a speaker for the Ignite Atlanta event this year
," says
Dr. Christian Freeman Law,
a 2020-2021 ElevateMeD Scholar and Emory School of Medicine graduate who will serve as the event's guest speaker. "
I am so excited for the many students who will benefit from the success of this program for years to come!"
Featured remarks will also be given by Dr. Edjah Nduom from Emory University School of Medicine. Upon the upcoming announcement of the 2022-2023 cohort of ElevateMeD Scholars on May 2, the organization will also present its Emory School of Medicine and Morehouse School of Medicine Scholars Program recipients.
Attendees of the event will enjoy live entertainment by Drew Charter School Senior Harpist Afiya Cave, dinner, and opportunities to participate in an online silent auction, raffle, live auction, and Fund-A-Need donor opportunities. Those unable to attend can participate in the online silent auction and raffle at
e.givesmart.com/events/pNS/.
At the time of Ignite Atlanta, the Scottsdale-based nonprofit ElevateMeD will have provided support to over 30 underrepresented medical students from across the country, awarding nearly $500,000 in scholarships and support. The organization's third-anniversary celebration details can be found at
www.elevatemed.org/three
.More on Georgia Chron
Tickets and sponsorship opportunities are available online through May 9, 2022, at
ignite.elevatemed.org
.
Individual Tickets- $275
Couple Tickets- $500
On Call Table Sponsor- $2,500
Stethoscope Sponsor- $5,000
White Coat Sponsor- $10,000
About ElevateMeD:
ElevateMeD is a 501(c)(3) nonprofit organization committed to elevating medicine by providing
scholarships, mentorship, leadership training, and financial management education
to future physicians from African-American/Black, Latinx, and Native American backgrounds. Through our Scholars Program, we aim to increase physician workforce diversity and improve cultural competence among physicians to reduce health disparities. Learn more about our mission and vision by visiting elevatemed.org.
Access Full Media Kit:
https://drive.google.com/drive/u/0/folders/18z_MMhizFfMuWANnp0wM_5gAiwg875Gy
Source: ElevateMeD, Inc.
---
0 Comments